Available NOW for discount pre-order at

Amazon.com, Amazon.ca, Amazon.co.uk
and Barnes and Noble.com!
"At long last: a how-to book written by someone who actually knows how to. It hits so many nails on the head I could barely get through it for the sound of all that hammering!"
—LARRY GELBART

Award-winning co-librettist,
A Funny Thing Happened on the Way to the Forum,
and librettist, City of Angels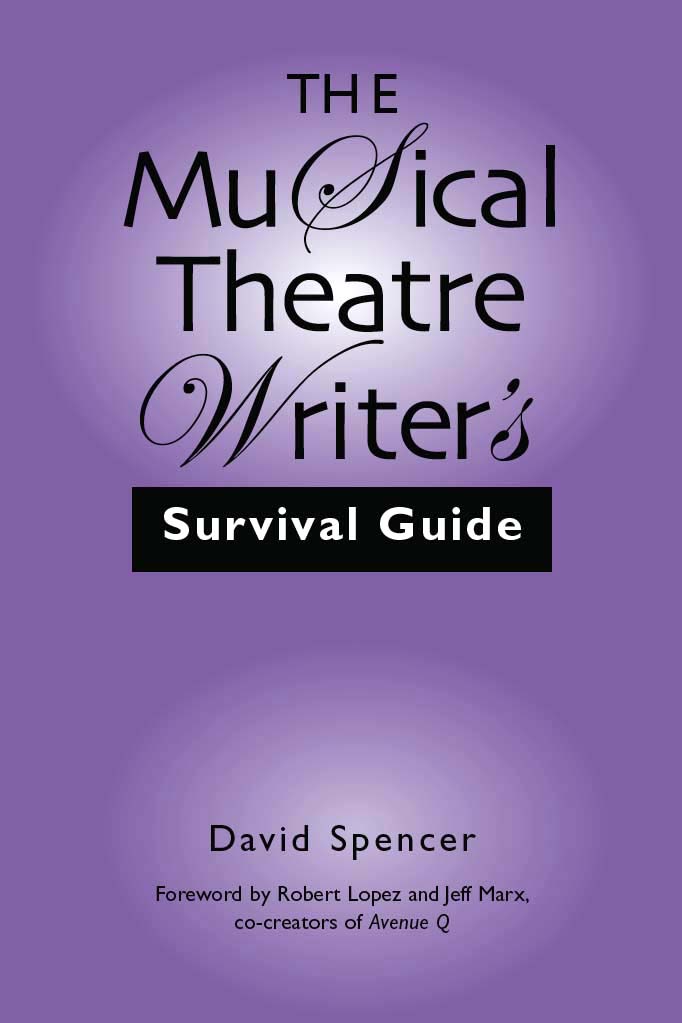 THE MUSICAL THEATRE WRITER'S
SURVIVAL GUIDE

by DAVID SPENCER
Foreword by
Avenue Q composer-lyricists and creators
ROBERT LOPEZ & JEFF MARX

New from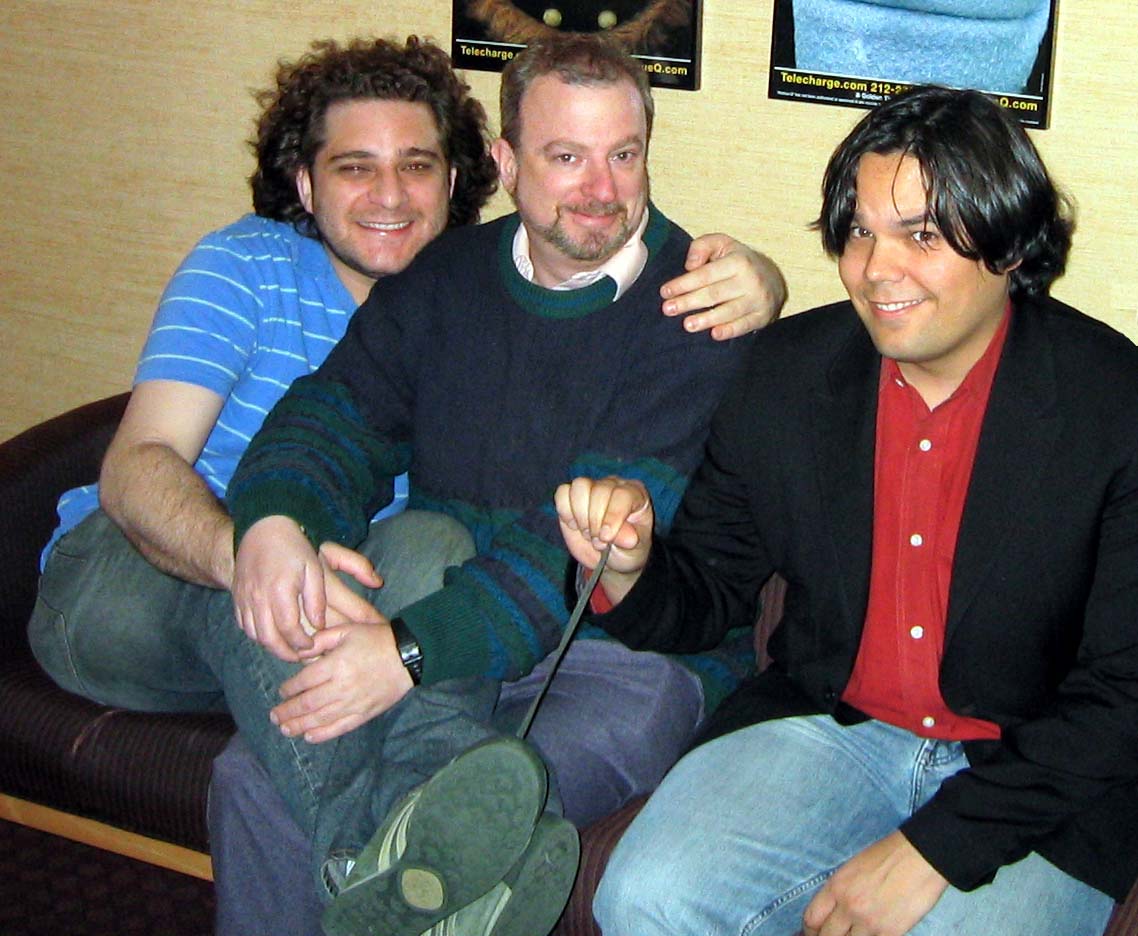 Pictured, left to right: Jeff Marx, David Spencer and Robert Lopez
Here are more advance accolades from the experts,
including writers and actors:
"David Spencer has written a book about what it's actually like to function in the world of professional musical theatre. It is unlike any book on writing I've ever seen. It is practical! It is written in unusually clear no-nonsense language, and it is full of truths a young writer will not find articulated anywhere else. Most of us in the theatre gained our 'experience' by making mistakes and learning from them. David's book lets you gain the 'experience' and skip the mistakes part. Anyone maneuvering the treacherous waters of musicals will find it not nearly so lonely or baffling with this remarkable volume as a companion."
—RICHARD MALTBY, JR.

Award-winning lyricist,
Starting Here, Starting Now, Baby,
Miss Saigon,Closer Than Ever
"David Spencer's THE MUSICAL THEATRE WRITER'S SURVIVAL GUIDE is packed with wise, witty and useful wisdom coming directly from an accomplished and experienced writer who not only knows his craft extremely well but also loves its process. It is expertly written and clearly presented yet often entertaining and pointed. I very much appreciated the chapter on directors—as I often find myself in the position. And the chapter on writing musicals for young audiences was surprising, enlightening and important. It should really help a lot of writers and directors and I will recommend it to my fellow writers. This book is a must for any professional seriously contemplating collaboration in the field of musical theater. I even look forward to referring to it often myself!"
—GERARD ALESSANDRINI

creator, director and lyricist,
Forbidden Broadway
"David Spencer is one of the most versatile talents in our business. He's both a brilliant musical theater writer and an extremely keen observer of every aspect of musicals; from opening numbers to closing nights, from the agony of reviews to the ecstasy of a standing ovation, from hits to flops and everything in between. In THE MUSICAL THEATER WRITER'S SURVIVAL GUIDE he reveals one more facet of his talent, his warm and witty writing style. If you can't hang out with David and get an earful of his interesting opinions and smart observations, this book provides the next best thing. Consider THE MTW SURVIVAL GUIDE your new best friend in the business."
— ALAN MENKEN

Award-winning composer,
Little Shop of Horrors, Beauty and the Beast
"Just as Goldman's The Season is the actor's best book on the biz of B'way and Clurman's On Directing one of the greatest acting texts, Spencer's book is the essential book for an actor involved in the process of creating a new musical. Knowing what the writers are looking for helps you shape your work to serve the piece (which will then in turn serve the actor). Smart writers will recognize your creative respect for their work and will listen when your work reveals flaws in their work. Anything that helps an actor to understand where he is in the process is information that frees and empowers him as oppossed to the usual stance of being in the dark and taking orders. In NYC, musical development is all about readings -- and this is the actors' best quide to their place in that process. And it's true -- when the writers scowl in your direction, they're thinking not about what you did wrong but what they did wrong."
— DANIEL MARCUS

Featured Broadway & nat'l tour musical theatre actor,
Urinetown, The Pirates of Penzance, Cats, Tommy
"This guide isn't just for musical theatre writers, this is must reading for musical theatre actors. Spencer provides an even better understanding and answers so many questions about the process that actors aren't privy to. Knowledgeable, trust-worthy, and great fun."
— EVAN PAPPAS

Featured Broadway musical theatre actor,
My Favorite Year, Putting It Together, Parade, Follies (in London)

For its practitioners, musical theatre is an art, a passion, and a lifelong love. But it's also a complex landscape involving not merely principles of craft about book, music and lyrics…but also principles of collaboration, script/demo presentation, project/production development, venue, business and–everybody's area of uncertainty–politics.

In The Musical Theatre Writer's Survival Guide, award-winning musical dramatist and teacher David Spencer provides a guide-to-the-game that helps you negotiate all those–and more. This professional handbook will walk you through:
getting your name and your projects into the hands of producers, instead of the rejection pile
choosing the right producer, agent, or director, instead of surrounding yourself with people uninterested in your work and your career, or interested for the wrong reasons
bringing your vision to life through stage-savvy writing, instead of watching it sputter due to flaws in craft
living a happy, healthy life in musicals, instead of dying a slow, showbiz death.
If you're taking your first steps, Spencer's counsel, anecdotes, and instructions will save you years of blindly stumbling about without results. Likewise, if you've been around the block a few times, The Musical Theatre Writer's Survival Guide can rescue you from the kinds of career-stalling traps, bad habits, and false assumptions that lead to dead ends. Finally, if you're just a fan, this is your inside look at how the best musicals–and their writers–are built.
DAVID SPENCER won a 2002 Richard Rodgers Development Award (as composer-lyricist for his current project, The Fabulist), a 2000 Kleban lyrics award, and two Gilman & Gonzalez-Falla Theatre Foundation grants. He has been the lyricist-librettist for two musicals with composer Alan Menken: Weird Romance and The Apprenticeship of Duddy Kravitz. He made his professional debut in 1984 with the English adaptation of La Bohéme at the Public Theatre and has since written music and lyrics for Theatreworks/USA's all-new, award-winning TYA versions of The Phantom of the Opera and Les Misérables–plus the original Alien Nation novel, Passing Fancy. He is on faculty at the BMI-Lehman Engel Musical Theatre Workshop and is webmaster and principal New York drama critic for Aisle Say. He can be emailed at
ScriptConsult@aol.com
for
script consultation services
, readings, public appearances or lectures.
Available NOW for discount pre-order at

Amazon.com, Amazon.ca, Amazon.co.uk
and Barnes and Noble.com!