(This event occurred in 2004, but the
page, like the show, has its fans ...)
The ultimate cast
in the ultimate cult musical,
a serious-minded (but never solemn)
blend of love -- and futurism --
by
Alan Menken, David Spencer & Alan Brennert,
back in New York at last for (another) limited run!
April 2, 3, 4 at the York Theatre!
Karen Ziemba, Devan (Batboy) May

also starring

John Kickok (Aida's original Zoser),
Marcy Harriell (TV's Ed)
Wayne Wilcox (TV's Gilmore Girls)
Darius de Haas (original cast of Rent)
Lisa Datz (The Full Monty)
Jill Paice
J. Robert Spencer
in: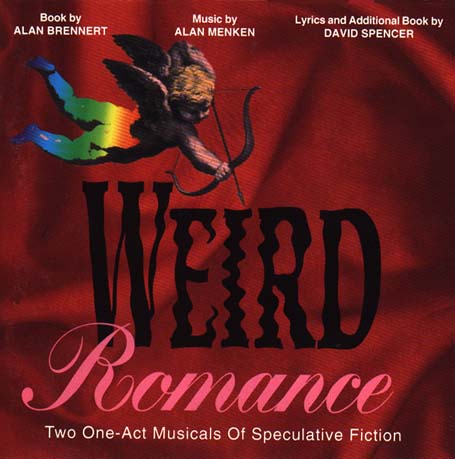 That little square above, with its electronically infused Cupid, shooting his arrow into a starkly paradoxical title, against a background of crushed red velvet, has become, for thousands, an icon of the favorite musical they've never seen. It's the cover for the

Columbia Records Original Cast Album of an under-publicized off-off Broadway limited run; an album that has launched dozens of stock and amateur productions all over the country, every year since its release. Those who know this deeply moving show and its enchanting score find it unforgettable. And here, for the first time since 1992, is your chance to see why.
As is well known to NYC musical theatre aficionados, the York Theatre holds a Musicals in Mufti series each season. These presentations are staged readings with suggested production values (think Encores! on a budget), some of which have launched both new productions and new cast albums ... and the specialty of "the house" is forgotten, neglected and cult musicals ...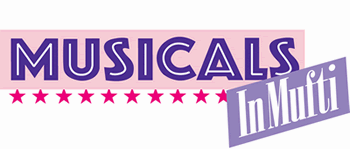 ... and WEIRD ROMANCE: Two One Act Musicals of Speculative Fiction by Alan Brennert (book), Alan Menken (music) and David Spencer (lyrics and additional book) -- which falls squarely and snugly into the cult (make that devoted and growing cult) category -- is being presented the first weekend in April at the York's home: The Theatre at Saint Peter's in Citigroup Center, 619 Lexington Avenue, at 54th Street. This newly revised version of the show, featuring new musical material, is having its world premiere with this event. The director is Sheryl Kaller, who is helming Spencer's THE FABULIST as well as the forthcoming Christopher Durang/Peter Melnick tuner ADRIFT IN MACAO; and the musical director is 42nd STREET's Fred Lassen.
Performance times are:
Friday April 2 at 8:00
Saturday April 3 at 2:30 and 8:00
Sunday April 4 at 2:30 and 7:30
Tickets are available by calling (212) 868 4444.
Tickets are $35 or $20 on day of performance
(one half hour before the performance, cash only).
Please mark your calendars and attend if you can. Following is the York's official blurb describing the show for those unfamiliar with its particulars—right under the photo of the authors (from left to right: Spencer, Menken and Brennert). And a collage of stills from the original production concludes the web page.




Serious-minded Science Fiction as the stuff of musical theatre? Why not? If history reveals anything, it is that love can exist anywhere, under the most unlikely circumstances. And love--healthy, twisted, requited, thwarted --is what musicals are all about. So what if this time, the realities are alternate...and passions are laced with futurism and high-tech trappings...and the universe operates by somewhat unexpected ground rules? Affairs of the heart -- and musicals -- will simply adapt accordingly. Welcome to Weird Romance. Weird Romance, whose authors are all multi-award-winners, features music by Alan Menken (Little Shop of Horrors, Beauty and the Beast, The Little Mermaid); book by Alan Brennert (The New Twilight Zone, L.A. Law, current bestselling novel Moloka'i); plus lyrics and additional book by David Spencer (The Fabulist, Public Theatre La Bohème, Theatreworks/USA's Phantom and Les Misérables).
Their daring musical adapts two of SF's most acclaimed stories: The Girl Who Was Plugged In by James Tiptree, Jr. (pseudonym of Alice B. Sheldon), which examines the folly of love's outer trappings; and Her Pilgrim Soul by Alan Brennert, which examines deeper, undying love held within. And our Mufti presentation heralds the NY debut of a newly revised version, including two new songs.
While the show was warmly applauded and reviewed, it has yet to have a commercial production in New York -- so here's your chance to catch up on an important and vital work that is perhaps the ultimate cult musical.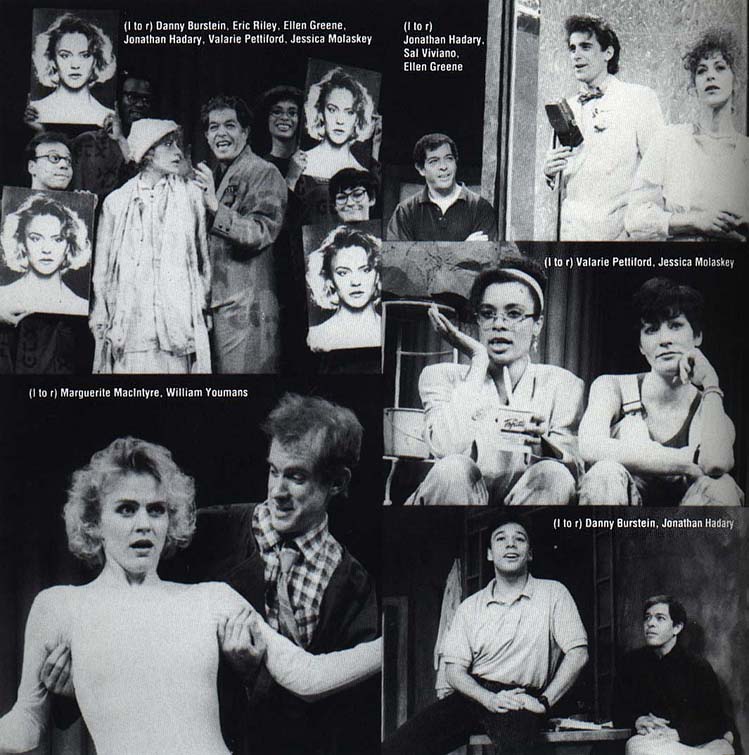 [an error occurred while processing this directive]